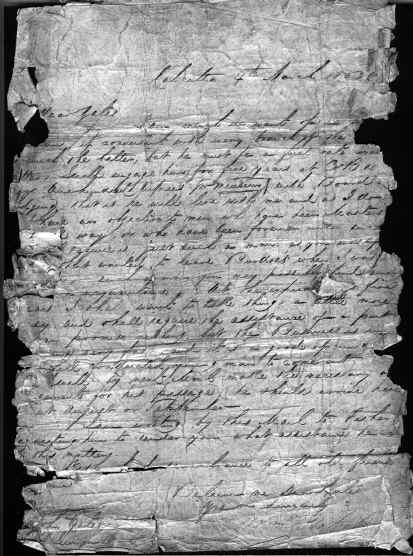 Calcutta 4th March 1853
My Dear Yates
I am much in want of a (tailor foreman), if conversant with every branch so much the better, but he must be a first rate tailor & cutter. I will engage him for five years at (?) one hundred and twenty rupees per mensem with board and lodging, that is he will live with me and as I do.
I have an objection to men who have been wasters ----- way or who have been foreman under ----- I require is, just such a man as you was -----that wanted to leave Burdoes when I was----- such a man you may possibly find among ------- acquintance. At the expiration --- five years I shall want to take things a little more ----ly, and shall require the assistance of a partner ---can promise nothing but the business is in ----ing very fast and it is a good opening ---- well conducted young man to come out.
I will by next mail make the necessary arrangements for his passage; he should arrive here --- August or September.
I am writing by this mail to Fisher requesting him to render you what assistance he can --- this matter.
With fond remembrance to all old friends
Believe me Dear Yates
Sincerely
Wm Stokeld
John Yates
86 Jermyn Street